Hi, I'm Kara, a lifelong book nerd with big dreams and a drive to pursue them! Here's the FastPass version of who I am and what I do: 
• 

Owner and Creative Director at Kara Klontz Design, specializing in book cover design
• 

Originally from Kansas City, Missouri
• 

Bachelor of Arts in Graphic Design
• 

Formerly worked as a cover designer at Faceout Studio and the lead graphic designer at Deschutes Brewery, both in Bend, Oregon. 
• 

14+ years of experience in design, 10+ years in book cover design
• 

Avid performer in community theatre. Don't worry, it doesn't pay so I'm keeping my day job!
If you're intrigued, here's the story of how I found book cover design:
​​​​​​​
When the time came to pick a college major, I had no idea what to pursue. I considered musical theatre, but knew the likelihood of seeing my name in Broadway lights was slim. Then came across a massive book called "
Do What You Are: Discover the Perfect Career for You Through the Secrets of Personality Type
." I snagged it off the shelf, worked my way through the quizzes and multiple choice scenarios until I landed at the end:
Children's Book Designer
.
That's when the epiphany hit: "Kara… You've been a bookworm your whole life. Belle was your favorite princess simply because she reads books. You carry at least two in your bag at all times, you nerd. 
You've 
certainly
 judged plenty of books by their covers in your lifetime, could that be an eye for design?
Someone has to design those. Someone must get
paid
 to design those!"
I immediately declared a graphic design major and proudly told everyone that I was working to become a book cover designer someday. You'd think any professor would be stoked to have a student with that kind of passion and focus.
Surprisingly, all but two professors laughed when I told them my dreams.
(Shoutout to Robert and Jeff, thank you times a million!)
The scoffing only motivated me more. I devoured everything related to book design.

I created my own projects outside of class where I redesigned popular published books with my own cover artwork.
Senior year I landed an
 internship at Faceout Studio
in Bend, Oregon. The taste of life as a book cover designer motivated me even more to "make it" someday. So I went back to Missouri to finish my last semester, continued to redesign popular books on my own time, and was soon
hired as a full time book designer at Faceout and immediately moved back to Bend, Oregon!
​
​
My time at Faceout Studio was invaluable. I spent 5 years learning from some of the best designers in the industry, designing hundreds of book covers, and
working with publishing companies across the country, from University Presses to the Big 5 and everything in between.
​​​​​​​​​​​​​​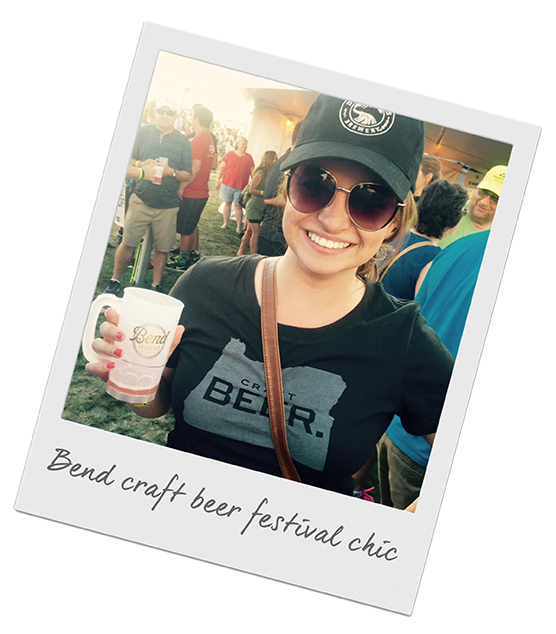 And then an opportunity presented itself that I couldn't pass up—
join Deschutes Brewery as the lead graphic designer!
Bend, Oregon is
the
craft beer capitol of the country, so it was fun to play with craft beer design aesthetics for one of the largest craft breweries in the country, as well as expand my skillset by working on an
in-house marketing team, and learning more about advertising and packaging design.
Ultimately though, my passion has always been book cover design,
so I carved my path to freelance design and have been happily designing books ever since! 
​​​​​​​​​​​​​​
When I'm not creating cover designs, you can find me going on
adventures with our mini goldendoodle Murray, spending time with my husband Ryan,
and generally striking a wonderful work-life balance enjoying all Oregon has to offer
.
Remember that theatre bug I mentioned? It's still got ahold of me…
Ryan and I met in 2014 performing in a local production of the musical Les Mis

é
rables, and we still hit the local stage performing together in musicals, plays, and concerts as often as possible!
​​​​​​​
Follow me on Instagram if you're prepared to see a variety of book cover designs, doggos, theatrical shenanigans and Oregon adventures!